Karen Starrett,
Founding Director & Teaching Artist for Creative Aging Arts, LLC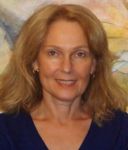 Karen Starrett is an artist and certified art teacher and dementia practitioner. She has a BA in art education from Douglass College and Advanced Certification in Gerontology from Rutgers University. Karen trained as a teaching artist for older adults with the National Center for Creative Aging in their program "Arts & Aging Core Training" at the Arts Council of Princeton, N.J. She received additional training in various aspects of aging at Creative Center's Creative Aging Institute, NYC, sponsored by the National Endowment for the Arts (NEA). For the past two years, The Creative Center invited Karen as founder of Creative Aging Arts, LLC, to speak about building a creative arts program for older adults.
The Creative Aging Arts curriculum springs from Karen's sensibilities as a visual artist. Many of her ideas for workshops evolve from the work she has done in two and three dimensions—painting, collage, assemblage, monotypes, sculpture—and her frequent visits to museums and galleries. As an artist, Karen is adept at dealing with the challenges of the creative process and knows how to interact and encourage people to explore the uniqueness of their expressive ideas. Karen's exhibition history includes solo shows at the Johnson and Johnson Headquarters and regional galleries and group shows at The Belskie Museum and the Monmouth Museum where she received awards for painting and sculpture. She is a Noyes Museum Signature Artist and a juried member of the National Association of Women Artists (NAWA).
To see my artwork, please click on this link:
karenstarrett.com